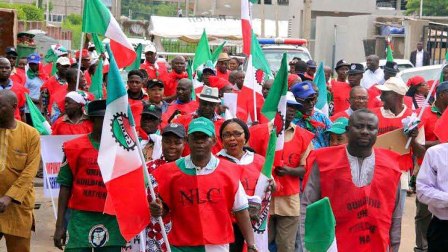 BThe Nigeria Labour Congress,NLC today, commenced a nationwide protest following President MuhammaduBuhari's failure to transmit a bill to the National Assembly for theimplementation of the new minimum wage.
Although the protest tookplace at the Lagos State secretariat at Alausa, Ikeja protesters were deniedaccess into the secretariat. Adeniyi Muyiwa, one of the protesters told themagazine that their action was the bestway the Federal Government can listen to the yearnings of the workers. Asidefrom Abuja and Lagos, the protests also took place in other states across thecountry.
"The workers that are thebrain and energy behind the country's economy are denied access to the secretariatbut, the crowd they rented for political declaration today were let in withoutany argument. We met them there. Now, do you think the sufferings of theworking poor mean anything to them? All that matters to them is their interestand election," he told the magazine.
The meeting held on Mondaynight between the Federal Government and representatives of the labour union didnot finalise talks on the way forward. NLC President, Ayuba Wabba,while addressing Journalist shortly after the meeting said the meeting wasfruitful as it addressed a number of issues of concern but that moreconsultations needed to be made, hence the adjournment of talks to Tuesday'safternoon.
Wabba who led the protest inAbuja today said the protest was about the implementation of the minimum wageand had nothing to do with the continuation of talks.
Minister of Labour andEmployment, Chris Ngige, promised that efforts will be made to get the newminimum wage bill ready by next week.
Follow Us on Social Media